84% of respondents from companies that use Six Sigma said the decision to deploy DFSS
--
To better understand the experiences of companies implementing Design for Six Sigma (DFSS), iSixSigma Magazine conducted a survey to explore when, where and why companies apply DFSS. Not surprisingly, most respondents said their company does not use DFSS.
The responses of those that do, however, indicate that the financial gains rival benefits achieved from projects following the DMAIC (Define, Measure, Analyze, Improve, Control) methodology. The survey also revealed that the companies which use DFSS made that decision early in their Six Sigma deployment.
Two factors stood out in distinguishing the companies that use DFSS from those that do not. Read on to find out what they were.


1,112: Number of total survey respondents


$200,000: Median "hard" financial benefits realized per DFSS project


$100,000: Median "soft" financial benefits realized per DFSS project


58.8: Percent of respondents who reported that their company does not use DFSS


84.3: Percent of respondents who said their company began using DFSS within the first three years of its Six Sigma deployment


18: Number of different DFSS roadmaps identified as used in DFSS programs


76: Percent of respondents who said their company uses DFSS in the Engineering function


7 to 12: Number of months most frequently selected to represent the average cycle time for a DFSS project


44: Percent of survey respondents who said 5 percent or less of the full-time Six Sigma team at their company was trained in DFSS


62.1: Percent of survey respondents who reported that their company utilizes internal resources to conduct DFSS training


<1: Percent of Six Sigma projects that are DFSS as reported by 34 percent of respondents


[caption id="attachment_17240" align="alignnone" width="1250"]
Sample image for research[/caption]
---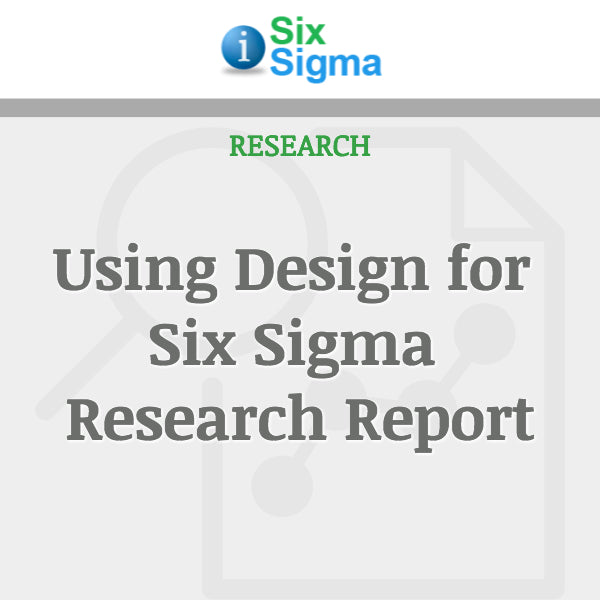 Store Categories
Our Promise To You