Black belt Six Sigma project reduced $130,000 in profitability losses
--
In today's pharmaceutical industry, many choices exist in both the form and packaging of drug formulations. An active pharmaceutical ingredient (API) can be made into capsules, tablets, solutions, suspensions and creams, for example.
To ensure that the efficacy of the formulations will not deteriorate under various packaging and temperature/humidity environments, these formulations are subjected to stability studies, typically for 12 to 36 months. For one contract research manufacturer, the lengthy planning and approval process used to design stability protocols was eroding profits from fixed-price contracts.
In conducting stability studies, drug manufacturers aim to meet governmental guidelines regarding product stability under different environmental conditions. This ensures various temperature and humidity settings do not affect physical or chemical properties of the formulation. In order to complete the studies, manufacturers must in some cases develop stability protocols.
The length of the protocol planning process contributed to monetary losses that exceeded $150,000 per year.
After implementing the improvements suggested by this project, the new process cut the median stability protocol planning cycle time in half, and reduced losses by $130,000.
Four months following the implementation of improvements, the new process cut the median stability protocol planning cycle time in half. Only 25 percent of the SPP steps exceeded the 14-day specification (compared to 83 percent before).
Additionally, no costly in-progress testing errors were observed (compared to 20 percent before).
Read the Project Example to find out how you can replicate this success in your enterprise.
[caption id="attachment_17169" align="alignnone" width="1250"]
Sample image for project example[/caption]
---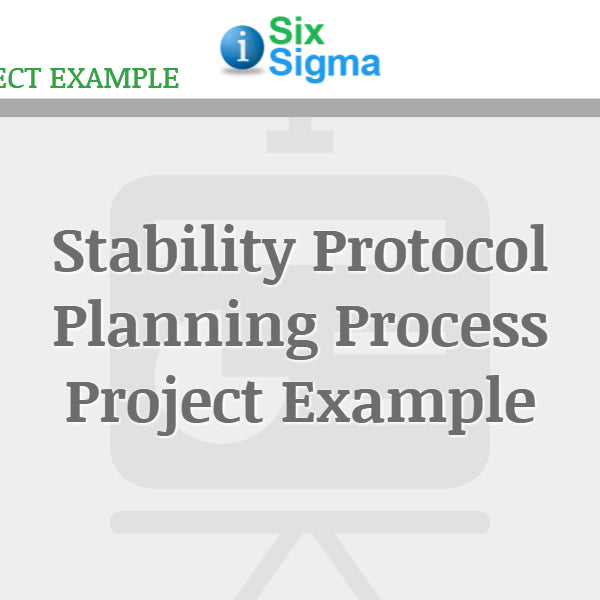 Store Categories
Our Promise To You