47.8% of respondents who said Six Sigma is a formal part of the leadership development process at their company
--
Excellent leadership is fundamental to the success of any organization. When looking internally to grow the next generation of leaders, companies often create a leadership development process.
With activities ranging from training, to mentoring, to opportunities with increasing levels of responsibilities, the process is designed to enhance the skills and capabilities of employees who have executive potential.
Including Six Sigma in the leadership curriculum is increasingly becoming standard. This iSixSigma Magazine research explored the relationship between leadership development and Six Sigma.



1,304: Number of total survey respondents


71.4: Percent of respondents who said their company has a leadership development process in place


0: Number of respondents who said Six Sigma is a formal part of their company's leadership development process and who rated that process highly unsuccessful


47.8: Percent of respondents who said Six Sigma is a formal part of the leadership development process at their company


10.9, 11.3: Percent of respondents who rated the caliber of leaders in their company as outstanding and poor, respectively


51.2: Percent of respondents who said Six Sigma training and/or certification is not expected for leaders in their company


69.2: Percent of respondents from a company with a highly successful Six Sigma program who said that between 1 percent and 25 percent of their leaders are Black Belt certified


28.8: Percent of respondents who said none of their leaders are Green Belt trained


17.3: Percent of respondents who said an individual contributor role is the type of role most often assumed by those completing a full-time Six Sigma assignment


83.2: Percent of respondents who said the leadership development process at their company is either somewhat or highly successful in developing effective and respected business leaders


[caption id="attachment_17297" align="alignnone" width="1250"]
Sample image for research[/caption]
---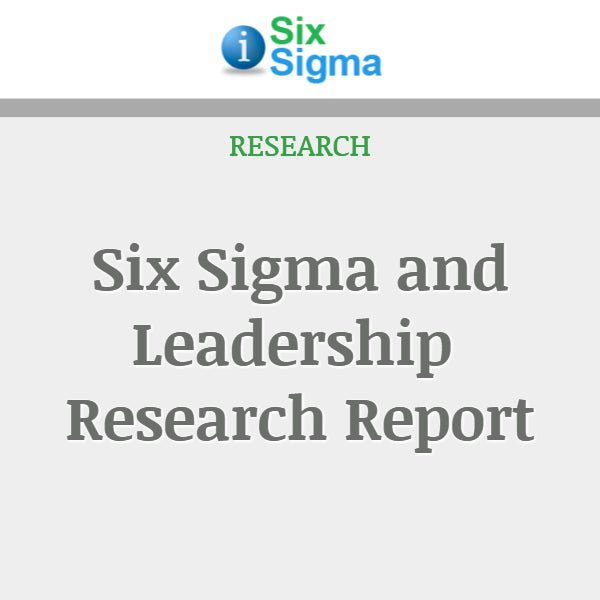 Store Categories
Our Promise To You