Drug Analysis Service (DAS) of Health Canada Six Sigma project reduced both the backlog and the drug analysis cycle time to ultimately improve service standards
--
The Drug Analysis Service (DAS) of Health Canada analyzes a variety of suspected illegal drugs seized by Canadian police forces. The four regional DAS labs are charged with determining chemically whether or not the exhibits are controlled substances.
Since 2005, both the costs and backlog associated with analysis have been increasing, due in part to a growing demand for laboratory services – 5 percent to 7 percent annually. Moreover, a lack of resources and space to respond to the increased workload has compounded the problem.
This case study summarizes the Lean Six Sigma approach undertaken at one of the labs, from February 2007 to August 2008, to reduce both the backlog and the drug analysis cycle time to ultimately improve service standards.
Define
In 2007, the total cycle time to provide drug analysis results to law enforcement clients was 82 days, plus or minus 43 days. Input from a client survey, however, indicated that most clients want test results within 60 days.
A failure to meet that specification could put court cases at risk and frustrate the police, who are trying to bring offenders to justice.
Both of these ramifications have the potential to lead to complaints to senior executives and perhaps to political leaders, which could impact the operations of the DAS labs.
Purchase to read more…
Measure
Laboratory employees (chemists and clerks) participated in several training sessions, followed by breakout meetings. In all sessions, Lean Six Sigma concepts and tools were used to characterize the key analysis processes of exhibits, such as cannabis, common and uncommon hard drugs, unknowns and quantitation.
Purchase to read more…
Analyze
The laboratory information management system timestamps numerous activities or exhibit attributes during the life span of an exhibit in the laboratory. These time stamps can be used to estimate the cycle times of various processes.
Although in some cases these times are not absolute, their relationships can be monitored for differences and variances.
In addition, these times allow for testing hypotheses by making changes and statistically examining the resulting effect (measured in time or variance to a particular time stamp data set).
Purchase to read more…
Improve
The team charted a series of improvements for approval by management. One of the key improvement activities was the design of work cells. The improvement team was trained by the Black Belt, who facilitated an improvement activity to design work cells for the high volume of testing.
The cell design helped the chemists recognize that many of the varied approaches used in the current system were based purely on personal preferences, not on technical requirements. The benefits of using a cell were expected to be: a) better consistency among chemists, b) better guidance on the analysis decision tree, c) fewer errors at review process and d) higher employee satisfaction.
Purchase to read more…
Control
The results achieved were astonishing. For cannabis testing, for example, the laboratory improved the capability of its analysis process to report exhibits.
The mean analysis cycle time was reduced by 29 percent, from 3.4 days, plus or minus 2.8 days, to 2.4 days, plus or minus 1.5 days. We also calculated that the variation of the mean cycle time was reduced by 46 percent.
Purchase to read more…
[caption id="attachment_17172" align="alignnone" width="1250"]
Sample image for project example[/caption]
---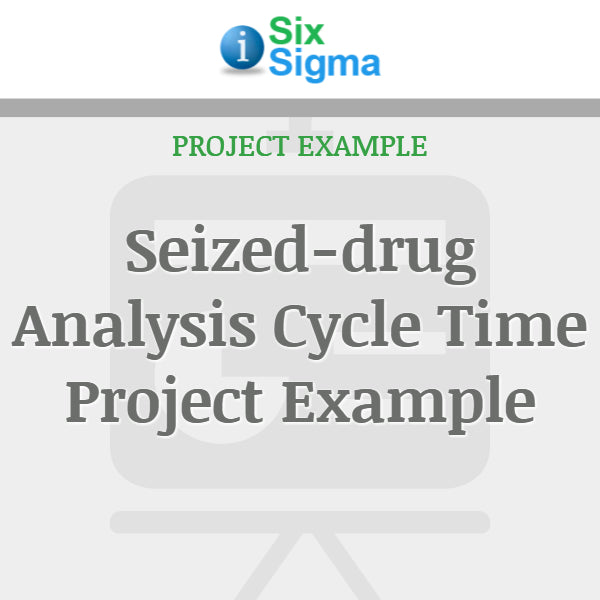 Store Categories
Our Promise To You