Prioritization matrix is made easier with an Excel template
--
The prioritization matrix, also know as the criteria matrix, is used to compare choices relative to criteria like price, service, ease of use and almost any other factor desired.
While this tool can be used effectively by an individual, it is great for helping Six Sigma project teams with decision making. The "seven management and planning tools" was taught to many by Michael Brassard, who wrote The Memory Jogger II in 1994. In his book, he said the prioritization matrix is said to:



Quickly surface basic disagreements so that they may be resolved up front.


Force a team to focus on the best things to do, not everything they could do, dramatically increasing the chances for implementation success.


Limit hidden agendas by surfacing the criteria as a necessary part of the process.


Increase the chance of follow-through because consensus is sought at each step in the process (from criteria to conclusions).


Reduce the chances of selecting someone's pet project.


The prioritization matrix is a great tool, but it is not used much because it takes a lot of time to do manually, and it can be confusing but with this Excel template it is easy and very effective.
This spreadsheet makes it easy to use and very effective with teams for decision making. This tool will save you approximately 120 hours of analysis.
See Dr. Carpenter's article on iSixSigma: "Prioritization Matrix Is Made Easier with a Template."
When you purchase this product, you can:
✅ Add their own company logo
✅ Customize the look and feel
✅ Modify the content
✅ Use for internal training of team
✅ Share with a team
---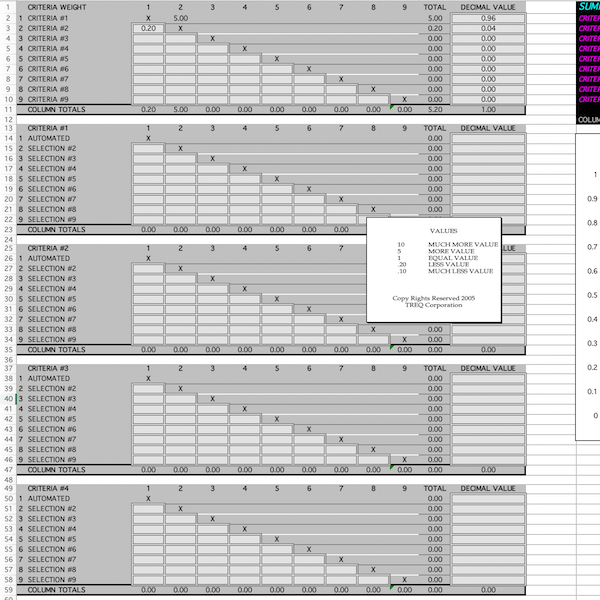 Store Categories
Our Promise To You