Evergreen Radia Six Sigma project reduced the range of appointment-to-scan time to 82 minutes and changed the projection of annual revenue to $1.4 million
--
Radia Inc., a large radiology and vascular surgery practice in the Pacific Northwest, wanted to improve efficiencies at one center that was falling behind other Radia sites. The center launched a project that led to a 50 percent improvement in the number of on-time MRI scans, exceeding the project's original goal.
The improvement created the potential for more than $1.4 million in annualized incremental revenue, while maintaining optimal patient safety and quality of care.
Define
Evergreen Radia Imaging Center is an outpatient radiology center that provides MRI scanning for referring physicians. After a second, more sophisticated 3-tesla (3T) magnet was added, the number of daily scans performed per technologist dropped 20 percent below the bestperforming Radia imaging center and 8 percent below the industry benchmark…
Measure
After completing the high-level process flow, we used SIPOC (suppliers, inputs, process, outputs, customers) diagrams to begin understanding inputs and outputs for each process phase. Mapping emphasized the complexity of the process, especially the number of decisions at prescan and scan…
Analyze
The team went through two FMEA (failure mode and effects analysis) exercises. First, in the Measure phase, we used the traditional FMEA process to identify problems that could occur.
Then, after some discussion, we decided to do a second FMEA to look at problems that did occur…
Control
We used a 2-sample t-test to statistically validate that our changes to the process did indeed result in significant improvement in the primary metric of appointment-toscan time.
The mean time was reduced from 7.5 minutes to -1.1 minutes, which essentially meant that, on average, we were able to start scans early. Additionally, variation in the metric was reduced – the range in appointment-toscan time went from 152 minutes to 70 minutes.
[caption id="attachment_17103" align="alignnone" width="1250"]
Sample image from project example[/caption]
---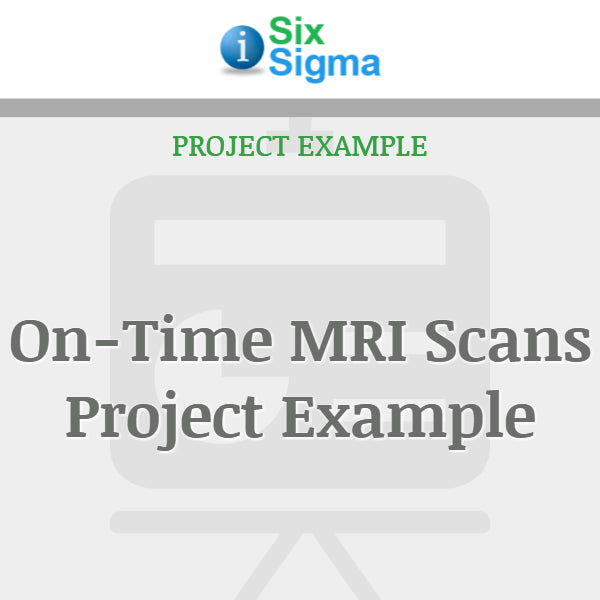 Store Categories
Our Promise To You