Cliffs Natural Resources' Michigan Operations Six Sigma project reduced the drill-move by more than 50% and 12% improvement in drill fleet
--
Cliffs Natural Resources' Michigan Operations consists of two iron ore mines in the Upper Peninsula: the Empire Mine and Tilden Mine. Like most businesses, Michigan Operations was faced with a seriously curtailed production year in 2009 due to the worldwide economic downturn. In order to reduce costs and conserve cash, the business unit cut production nearly in half. Its customers - steelmakers - were likewise reducing inventory and producing just enough product to meet the needs of their customers.
Toward the end of 2009, the market rebounded, bringing with it a high demand for iron ore to keep up with the increasing demand for steel and to replenish the depleted inventory. Michigan Operations was charged with quickly ramping up production – without purchasing new equipment.
To ensure delivery of the expeditious production plan, the mine's drill fleet would have to raise its drill utilization to a level higher than ever demanded. In order to make that happen, a five-day Kaizen event was chartered to reduce the time to move a drill, as safely as possible, from one blast pattern to another.
The project, developed by the senior mining area manager and approved by the mine's steering committee, would be co-led by a Green Belt and a Black Belt from the mining department and facilitated by a Master Black Belt. This project was the first Kaizen event Michigan Operations had ever initiated, so the project also served as an introduction to the Lean Six Sigma approach.
In just three weeks, the drill-move time was reduced by more than 50 percent, from 4.9 eight-hour shifts to 2.3 eighthour shifts, which equates to a nearly 12 percent improvement in drill fleet utilization. While the duration of the drill moves was not yet down to the desired 1.5 eight-hour shifts immediately following the Kaizen event, there are a number of actions that are still being implemented, such as the previously mentioned 5S projects and ongoing AARs.
[caption id="attachment_17181" align="alignnone" width="1250"]
Sample image for project example[/caption]
---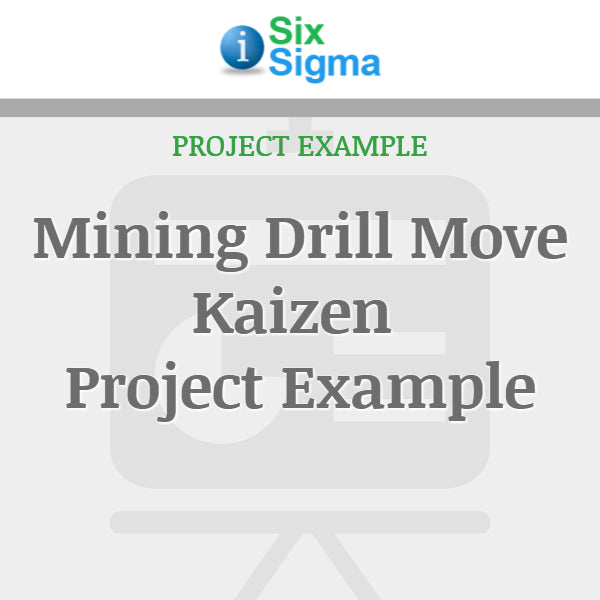 Store Categories
Our Promise To You