Make change happen by identifying and removing cultural roadblocks
--
It doesn't matter how well you build your new process or improve your current process if the customers and stakeholders refuse to try it. There are many logical reasons to be against any significant change. This presentation examines these along with techniques and tools for overcoming resistance.
Belts and other process improvement professionals spend significant time and effort building improved products and processes...only to fail because intended audiences/customers refuse to use their products.
Recognizing the risk and challenges of major changes focusing efforts to address them are as important to significant change adoption as some of the technical tools already being employed.
Seasoned Lean, Six Sigma and process improvement managers will cite resistance to change as one of the most significant factors of their career.
This product provides insight into the nature of major changes within organizations, the dilemma of change, identifying sources and reasons for resistance and building strategies to deal with them, methods of developing organizational feelings of shared needs and visions, mobilizing commitment and insights into modifying organizational systems and structures to permanently retain improvements.
The methodology contained in this PowerPoint presentation applies to all levels of belts and to project managers in general.
Recognition that "it doesn't matter how good you make it if they refuse to use it" and how to overcome this problem should significantly increase the rates of success of projects producing significant changes.
This presentation provides doctrine, followed by examples of tools to deal with each aspect along with examples of completed tools. Although an existing tool is used to provide these examples, the presentation emphasizes that you can easily make their own tools or manual forms to accomplish the same purposes.
This presentation slide deck includes 51 slides, professionally designed, ready for you to customize with your name and company logo and deliver. Instructor notes are also included to ensure you don't leave out critical talking points. Feel free to modify the content, use for your own internal training, and share with your teams.
[caption id="attachment_17519" align="alignnone" width="1250"]
Sample image for training slides[/caption]
---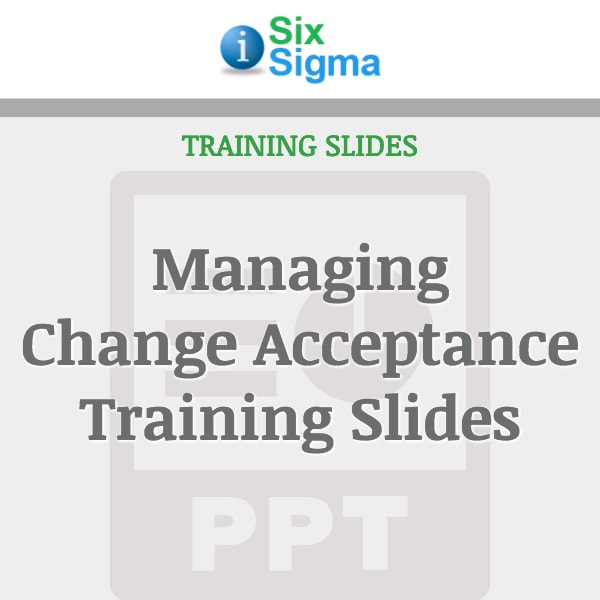 Store Categories
Our Promise To You