Learn how to become an effective Champion by getting this Six Sigma Training bundle
--
Six Sigma executives and champions set the direction for selecting and deploying projects. They ensure at a high level that projects succeed, add value and fit within the organizational plan.
Champions translate the company's vision, mission, goals and metrics to create an organizational deployment plan and identify individual projects.Champions also identify resources and remove roadblocks for Black and Green Belts.
For a Six Sigma deployment to produce the expected results, organizational roles and responsibilities must be clearly defined and aligned. If Executives and Champions are not properly trained, but are expected to oversee the scope of the project and manage Black and Green Belts, the probability of success decreases to virtually nothing.
None of these situations will produce the type of results that will occur when Six Sigma practitioners are placed in the correct support environment.
Champions must be proficient in change management, project selection, scoping, defition and chartering. This Lean Six Sigma Champion Training course provides the information needed to perform this function to the highest standards.
This training course includes 204 slides in 5 modules:
1- Lean Six Sigma Overview
2- Deploying the Initiative
3- Change Management
4- Project Selection and Scoping
5- Project Definition and Chartering
Three project templates are also included with the course.Most Champions are often managers or executives with multiple and diverse responsibilities.
They must be integrated into the business, select projects accurately, adjust the speed of the deployment and take responsibility for implementation.
Attention Instructors: For information on purchasing multiple-user downloads of this product at a discounted rate please contact us.

Summary
- An initiative for process improvement.
- A problem solving approach based on following the DMAIC roadmap.



Lean is a set of tools used to reduce waste in a process, thus increasing process velocity.


Lean Six Sigma is:


- An integration of the two methodologies for continuous improvement.
- The best system for improving processes.
[caption id="attachment_17526" align="alignnone" width="1250"]
Sample image for training slides[/caption]
---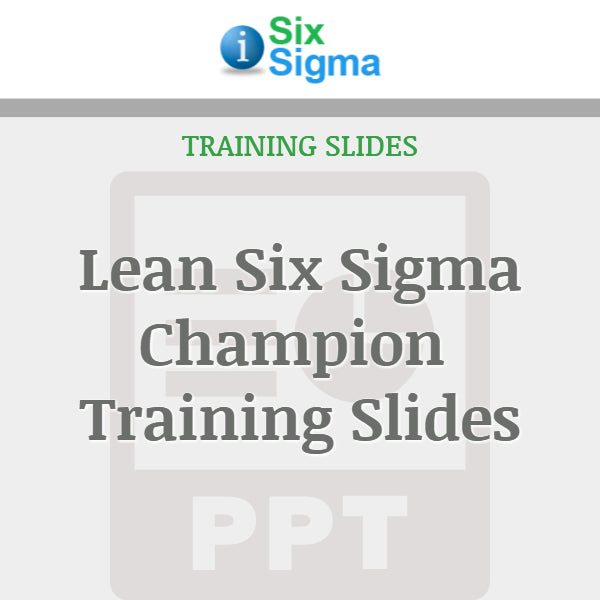 Store Categories
Our Promise To You