FLEXcon positions itself for growth by embracing Lean at every level
--
More than 50 years ago, FLEXcon began as a two-person shop producing plastic film laminates for shoes and handbags.
Today, the company is a global manufacturer of pressure-sensitive films and adhesives with sales of $300 million annually and upwards of 1,000 employees.
Helping achieve that growth is a commitment to continual improvement.
The evolution of FLEXcon has involved a number of improvement initiatives, including ISO, statistical process control and OSHA's Voluntary Protection Programs.
Company leadership discovered that Lean offered something in addition to the benefits of those other efforts: It offered a way to involve everyone in the company in building for tomorrow.
"Lean is really interesting and unique in that it brings a common language, knowledge of the tools, focus of the tools and
results," said Chief Operating Officer Mike Engel.
Like many companies during the economic downturn in the early 2000s, FLEXcon was exploring ways to address the cost of business. But they were not simply thinking about the short-term. Leaders were also asking: What would allow them to grow earnings, grow their revenue stream and improve customer service?
That is when they started exploring Lean as the next possible platform to achieve improvement in the company.
With the foundation in training and the early tangible results, employees understood that the focus was on the company as a whole and its ability to service customers. They understood that FLEXcon was embracing both pillars of Lean: continuous improvement and respect for people. And now, years later, they understand that Lean is really "for the long run."
[caption id="attachment_17015" align="alignleft" width="1250"]
Sample image from FLEXcon case study[/caption]
---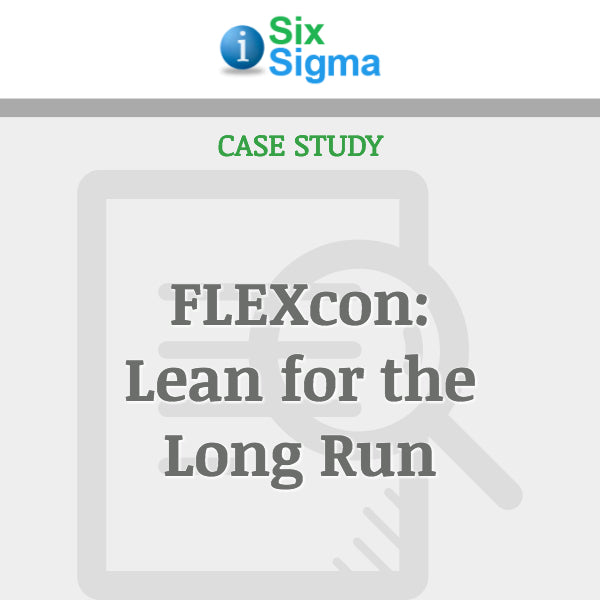 Store Categories
Our Promise To You