Kaiser Aluminum Corp Six Sigma project improved the lab on-time to 6% which was an outstanding improvement
--
Historically, an outside service provider performed the physical property tests on the metal produced by Kaiser Aluminum's Trentwood facility.
Because thousands of tests are necessary each year, management decided to bring the testing in-house to reduce vendor expenses. Installing, calibrating and certifying the needed fracture and fatigue test cells – a major capital investment – took seven months.
Although the project was deemed a success, the new physical testing laboratory was experiencing delays in completing the tests. On-time testing performance is critical so that, as metal is ready to ship, all the proper testing and certifications are complete to ensure on-time delivery to customers – a hallmark of Kaiser Aluminum's "Best in Class" customer service mantra.
The laboratory manager, newly trained as a Green Belt through the Kaiser Production System, put his training to use with a DMAIC project to improve lab on-time testing.
This Lab On-time Testing Final Tollgate features a Six Sigma project as it would be presented to a panel of company executives at the final project review. The objectives of such a presentation are to communicate significant results of the project and share highlights of how results were achieved.
The improved process was monitored for 10 weeks to ensure stability. During this monitoring period it was determined that the lab on-time testing had improved from 91.3 percent on time to 97.3 percent on time.
This was an outstanding improvement, but it did not yield the desired percentage of on-time testing of 99 percent. After reviewing Pareto diagrams, the project team determined that the next big opportunity was to reduce the number of re-tests necessary. However, this issue had a significantly different root cause than the material flow issues.
[caption id="attachment_17125" align="alignnone" width="1250"]
Sample image for project example[/caption]
---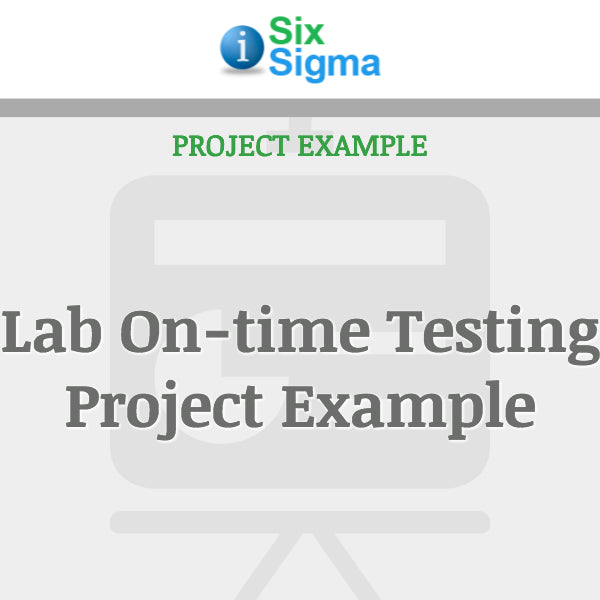 Store Categories
Our Promise To You