% of respondents who reported that their company collects and analyzes customer data via a Six Sigma process
--
A well-known tenet of Six Sigma is that as defects are eliminated and processes streamlined, customer satisfaction increases. But just how much emphasis is placed on knowing and satisfying the customer varies.
This iSixSigma Magazine benchmarking research sought to learn how companies are interacting with their customers, how Six Sigma is helping them and how successful they have been.
Survey respondents who said that the success of their company's Six Sigma initiative is defined by
an increase in customer satisfaction reported a significant improvement in their customer satisfaction
metrics more often than respondents who identified any other driver for defining Six Sigma success.
Where the spotlight is focused, resources are deployed, efforts are exerted and results are realized.


1,515: Number of total survey respondents


66: Percent of respondents who based their responses on a commercial (business-to-business) customer


27: Percent of respondents who said their company always follows a defined process for analyzing customer feedback


31: Percent of respondents who reported that their company collects and analyzes customer data via a Six Sigma process


43: Percent of respondents who said their company's Black Belts/Master Black Belts spend time with customers to help them improve their processes through Six Sigma


18: Percent of respondents who said an increase in customer satisfaction is the most important driver for defining the success of their company's Six Sigma initiative


17: Percent of respondents who said their company never conducts internal employee satisfaction surveys


44: Percent of respondents who rated as moderately high or very high the confidence level of their company's general employee population in identifying their customers' top three issues in 2006


74: Percent of respondents who rated as moderately high or very high the confidence level of their company's senior management in identifying their customers' top three issues in 2006


112: Number of respondents who identified GE as the company that most embodies customer centricity


[caption id="attachment_17254" align="alignnone" width="1250"]
Sample image for research[/caption]
---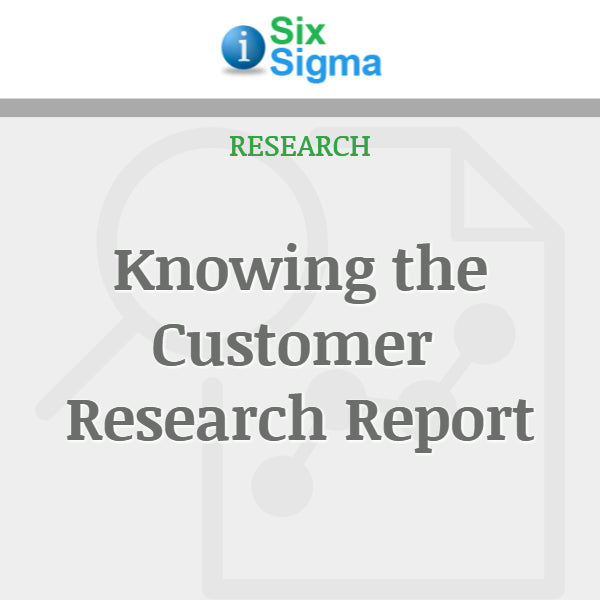 Store Categories
Our Promise To You