Waste analysis is simplified by analyzing where there is excessive time in the process
--
Lean is producing and delivering the highest quality products and services at the lowest possible cost, by eliminating all non valued-added activities in the processes.
Most companies have them - ongoing problems that result in scrap or rework on a regular basis. The problems may be addressed, but they're never fully solved. And it's no surprise that many firms also have issues with delivery and waste.
Lean principles have proven not only to be universal, but to be universally successful at improving results. Lean thinking looks at the value chain and asks:
How can things be structured so that the enterprise does nothing but add value, and does that as rapidly as possible? All the intermediate steps and intermediate time is eliminated.
All that's left are the time, the people and the activities that add value for the customer.
The first step in lean thinking is to understand what value is and what activities and resources are absolutely
necessary to create that value. Once this is understood, everything else is waste.
The Introduction to Lean and Waste Course will help you understand:



The Lean methodology


The Lean categories of work


How to use Lean concepts to reduce cycle time in a process


Definition of the 7 types of waste


The drivers of waste
How to utilize waste analysis as a method of identifying areas of process improvement


You can use these slides as a refresher for you, or in a training/classroom environment. The
Introduction to Lean and Waste Course
is designed for business professionals who are interested in learning or teaching process improvement techniques in their workplace.
Some of these professionals may include Quality Managers, Continuous Improvement Managers, Process engineers, etc.
Unorganized Workplace



An unorganized workplace increases excess motion and waiting time because time is spent looking for things.


An unorganized workplace increases defects because it reduces the ability to recognize abnormal conditions.


Disorganization increases the amount of  inventory that is required.


[caption id="attachment_17453" align="alignnone" width="1250"]
Sample image for training slides[/caption]
---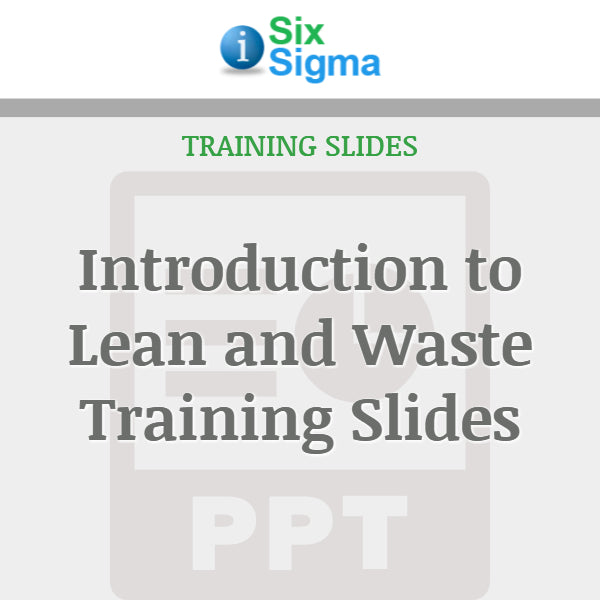 Store Categories
Our Promise To You