Black Belt project resulting in a revenue gain of over $850,000
--
A supply chain management firm was asked to invoice a customer through a new B2B online process. The customer used the website as a way to connect with its original equipment manufacturers, overseas repair centers and third-party logistics providers (3PLs).
The system allowed service providers to send their invoices electronically, and also provided real-time updates on parts, services and warranties to the firm's suppliers and service vendors.
The supply chain management firm began using the electronic invoicing system in compliance with its customer's request. During the first year of the implementation however, it was found that a high volume of its invoices were being rejected by the website invoice verification program.
The invoice rejections resulted in a number of problems, including: 1) services and parts not being paid at their original rates or not being paid at all; 2) an overloaded manual process, with both companies reprocessing rejected invoices; and, 3) a deteriorating business relationship.
As a result, a Six Sigma project was initiated to investigate and improve the electronic invoicing process. The project scope would cover all manual and automatic processes related to the customer's electronic invoicing process.
The objective was to find the root cause of invoice rejections and propose process improvement strategies to eliminate the rejections in the first place.
As a result of the recommended improvements, the project achieved an average initial acceptance of 90.8 percent, with close to 100 percent acceptance percentages for most service codes - up from the initial 77.97 percent. This resulted in a revenue gain of more than $850,000 at the end of the project - over $120,000 more than the planned project benefit.
[caption id="attachment_17111" align="alignnone" width="1250"]
Sample image from project example[/caption]
---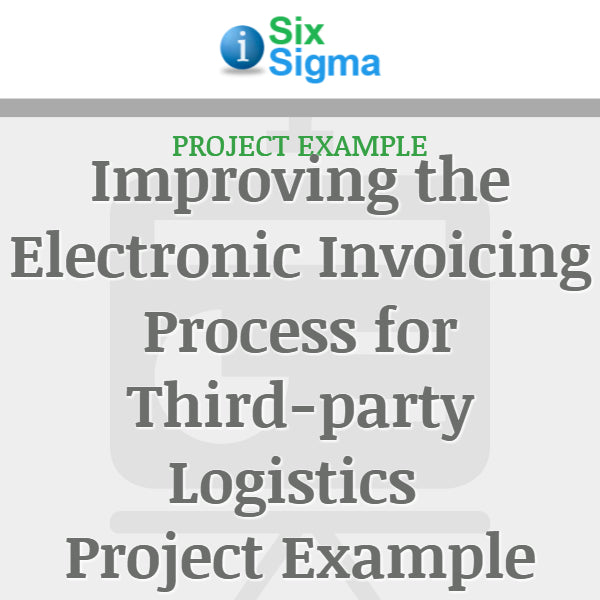 Store Categories
Our Promise To You