Control charts are time series graphs that are used for taking action on a process
--
Control Charts are tools you can use to monitor a process. They graphically depict the average value and the upper and lower control limits (the highest and lowest values) of a process.
Control charts also give timely warning of 'special causes' entering the process, and they generally monitor either the process mean, the process variation or a combination of both.
You can use these training slides as a refresher for you, or in a training/classroom environment. You can edit, change or modify them however you want, or don't change anything and use the material as-is.
There are a total of 60 slides offering examples that make Control Charts easy to implement right away.


The Control Charts Training Course is designed for Six Sigma and other business professionals who are interested in applying Control Charts in their workplace. Some of these professionals may include Six Sigma Black and Green Belts, Quality Managers, Continuous Improvement Managers, Process engineers, and more.


Control Charts are key in any Six Sigma initiative, and the cornerstone to a strong quality organization.



In this course you will:



Understand the two types of variation and how to react effectively to both

Understand the objective of control charts and how to construct them

Learn how control charts are used to control process variability

Introduce individuals/moving range and average/ range control charts

Discuss the interpretation of control charts

Most variations in processes are caused by flaws in the system or the process. Control Charts help distinguish between normal and unusual variation in a process. This training course will help you learn or teach how to effectively apply Control Charts in your workplace.
There are two types of variation – common cause and special cause.
[caption id="attachment_17514" align="alignnone" width="1250"]
Sample image for training slides[/caption]
---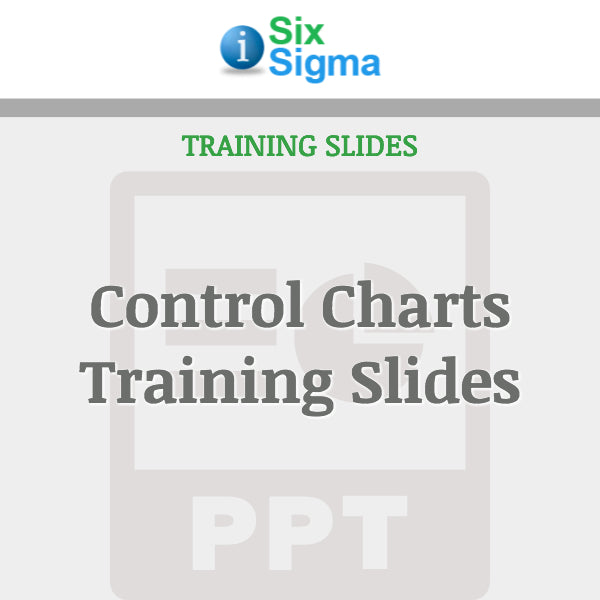 Store Categories
Our Promise To You