Accelerate change acceptance in your organization
--
Change affects people's jobs, work environment, status, and other important considerations. Some may fear they will be unable to absorb and master new technology or procedures.
The possibility also exists that some people will just sincerely believe it isn't a good idea and will hurt the organization. Whether these people possess critical knowledge or not, resisters can frustrate successful implementation of change.
Managers need to be especially aware of "stealth" resistance. If there is resistance, get it out into the open and address it professionally and collegially. Make sure people know that there will be substantial training and job aids to help them with any new/improved processes that result from the project and/or in other positions.
Also make sure everyone knows when senior management is committed to making the change.
The effectiveness of any change is a function of two factors; the technical goodness of the change AND the degree of acceptance by the people who have to execute its procedures. While change acceptance plans should begin as soon as possible, they become crucial in the "Improve" Phase.
Even when developers recognize the need to win users and other stakeholders over to the cause of improvement, they are frequently unable to do so because the techniques and processes lay outside the scope of typical process and program development training. This tool provides both instruction and templates through which you can manage user/stakeholder acceptance of the changes that will come with the improvements you and your team are making.
This kit is comprised of an Acceptance Campaign Worksheet that provides both structure and embedded Excel workbooks to help you manage this important activity (See Figure 1). The embedded workbooks provide for the following processes:
a. Internal Team Assessment of itself and of the target organization's readiness to change.
b. Strengths-Weaknesses-Opportunities-Threats (SWOT) workbook.
c. 3D – Data-Demonstration-Demand workbook.
d. More of…Less of worksheets for both single implementation and multi-phased implementation projects/programs.
e. Mobilization Communications Plan workbook – Build and deliver different messages to specified audiences using specified media.
f. Sources of Resistance Analysis workbook.
g. Key Constituents and Stakeholders Resistance Analysis and Conversion Plan workbook.
There are actually two sets of these tools in the kit. One is a template which can be used again and again for multiple projects. The other is a completed sample Acceptance Campaign Worksheet with completed sample embedded workbooks.
The product comes with specific versions for Microsoft Excel '97-2003 and 2007. You must purchase the correct version for your Microsoft Office suite to ensure all macros will function properly.
[caption id="attachment_17695" align="alignnone" width="1250"]
Sample image for tools[/caption]
---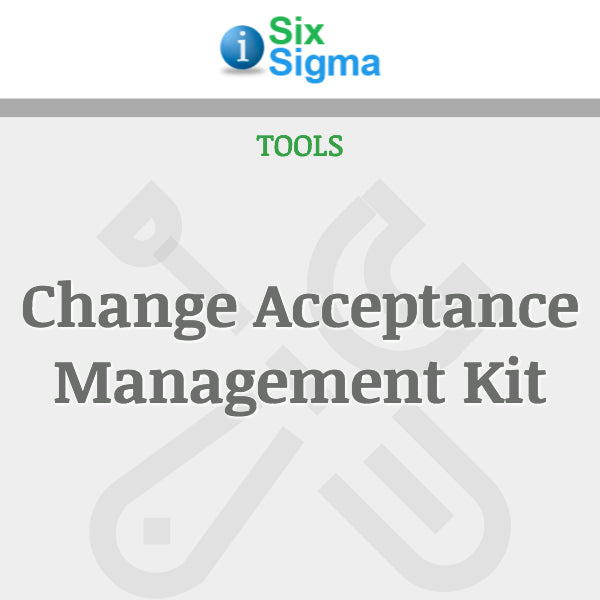 Store Categories
Our Promise To You