Problem statements and objectives help define the problem and what you want to improve
--
A Cause and Effect Diagram is a tool that helps identify, sort, and display possible causes of a specific problem or quality characteristic. It graphically illustrates the relationship between a given outcome and all the factors that influence the outcome.
A Cause and Effect Diagram
is sometimes called an "Ishikawa diagram" because it was invented by Kaoru Ishikawa, or a "fishbone diagram" because of the way it looks. The structure provided by the diagram helps team members think in a very systematic way.
The Cause and Effects Diagram:



Helps determine root causes


Encourages group participation


Uses an orderly, easy-to-read format


Indicates possible causes of variation


Increases process knowledge


Identifies areas for collecting data


You can use these slides as a refresher for you, or in a training/classroom environment.
The Cause and Effects Diagrams Training Slides are designed for business professionals who are interested in applying process improvement techniques in their workplace. Some of these professionals may include Quality Managers, Continuous Improvement Managers, Process engineers, etc.
Focused Problem Statement



A cause and effect diagram is most effective when you create a focused problem statement.


By focusing the problem statement you will narrow the scope of your analysis.


It will be difficult to create a cause and effect diagram if the scope of the problem is large because there will be a   lot of potential causes.


[caption id="attachment_17455" align="alignnone" width="1250"]
Sample image for training slides[/caption]
---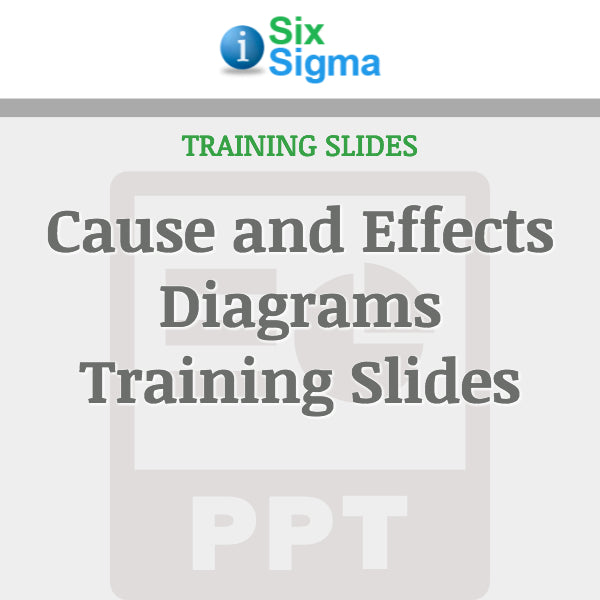 Store Categories
Our Promise To You