Electric Boat Corp Six Sigma project gains more than $800,000 in hard savings and approximately $90,000 in soft savings over a 36-month period
--
Electric Boat Corp. - a General Dynamics Corp. company - designs, builds, delivers and supports nuclear submarines for the U.S. Navy. The company's supply chain process matches design requirements and schedule demands with inventory holdings, or utilizes the procurement process to ensure that material is available for construction.
Purchased material goes through a receiving process in which it is analyzed, tracked and stored for use by the shipyard workers. Although most of this material does not require inspection or certification review, 25 percent of it was nonetheless being directed to receipt inspection analysts.
A noticeably high backlog of material led Electric Boat to focus a continuous improvement project on reducing the percentage of purchased material being routed to receipt inspection.
As a result of the team's effort, more than $800,000 in realized hard savings and approximately $90,000 in soft savings over a 36-month period have been confirmed.
Measured in this manner, the project achieved a 50 percent increase in the material that correctly bypassed receipt inspection (which was previously routed there unnecessarily). Overall, there was a shift in the process mean from 29.3 percent to 43.9 percent.
A 2-sample t-test confirmed that the difference in the process means is statistically significant. As further evidence of the project's impact, a positive correlation was drawn between material accurately bypassing receipt inspection and on-time material delivery for construction activities.
[caption id="attachment_17153" align="alignnone" width="1250"]
Sample image for project example[/caption]
---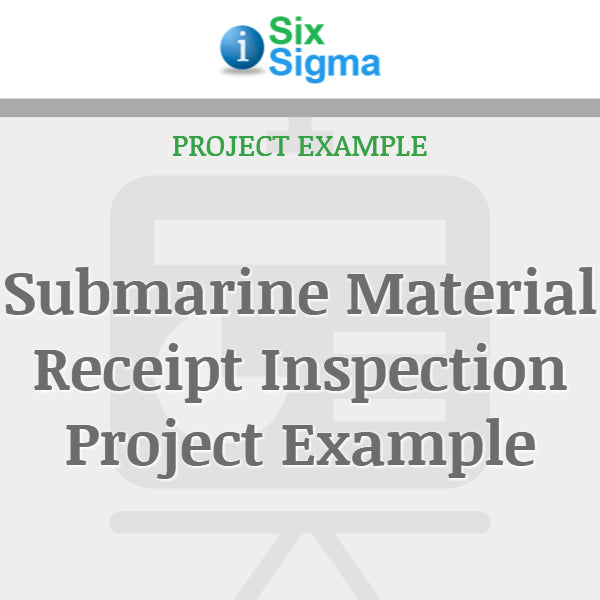 Store Categories
Our Promise To You