Find corrective actions that really make a difference
--
Working in the quality organization for over 20 years, the QMSS team (providers of this course) of quality professionals continually ran into corrective actions that fall short of root cause. The concepts of root cause analysis seem simple, but applying them in every aspect of your company is difficult.
"If only our employees understood why getting to root cause is so important, and how it will benefit us in the long run!"
"Why do we keep seeing the same problems come back and bite us two months later!"
Training your company has just become easier! With this course you will be able to train anyone in your company on the proper techniques for achieving proper resolution of any type of problem, whether it be a transactional process, manufacturing issue, medical procedure, or personnel issue.
How long would it take you to develop your own course? Hours? Weeks? Unless you can develop a similar course in less than an hour, this course will pay for itself at least ten times over!
The course is yours to keep. Feel free to edit, change or modify however you want, or don't change a thing and teach directly from our material. There are a total of 56 slides, so plan on a 3-4 hour class.
Don't spend thousands of dollars hiring a consultant to come in and speak in general terms. Use your knowledge of your company's major problems to elaborate on the material we have put together. Unless you can show how these concepts relate to actual issues that your employees deal with, you will have a hard time making much of an improvement in the way problems are resolved.
This course has been thoroughly tested and is exactly what you would create on your own, if only you had the time. We have done all the hard work for you, so just follow these simple steps...



Download the Powerpoint course


Edit the master slide with your company logo


Skim the speaker notes, maybe add a few of your own company specific examples


Start training your company!


The course is divided into three sections:
Introduction and Overview - What is a root cause, why is it important to identify, and why we don't always get there.
Problem Solving Process - a simple 8 step approach to problem solving, including containment, root cause identification, corrective action, verification and sustainment. You can always plug in your own Corrective Action process.
Examples - a manufacturing and business process example utilizing basic quality tools are both provided, or simply add your own example that is specific to your business or company.
Here is an outline of the course...



Objectives


Root Cause Definitions


Benefits


Root Cause Process Summary


Corrective Actions


Problem Solving Process (8 Steps)


Example 1 - Manufacturing


Example 2 - Transactional


Hints about RCA


English Version of the Root Cause Analysis Course
.
[caption id="attachment_17522" align="alignnone" width="1250"]
Sample image for training slides[/caption]
---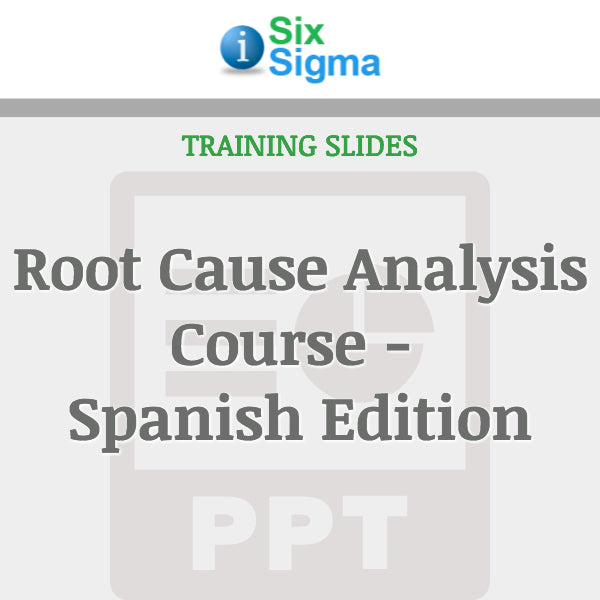 Store Categories
Our Promise To You