Quick Changeover is an activity that focuses on reducing the changeover time
--
Today companies need to be more responsive than ever to the constantly changing demands of their customers. Reducing batch sizes is key. But if you are like most organizations, changeover time is getting in the way.
Quick Changeover
, sometimes referred to as Setup Reduction, eliminates or reduces non-value added activities in the setup and teardown processes, allowing companies to quickly and efficiently change from one product to another. Quick Changeover is a critical component of Lean Manufacturing, allowing companies to reduce batch sizes and shorten lead time, making it easier to meet customer demands for high-quality, low-cost products, delivered quickly and without the expense of excess inventory.
The Quick Changeover Slides will help you learn:



The definition of Quick Changeover


Goals of Quick Changeover


Benefits of Quick Changeover


Quick Changeover Procedure


How to apply the Quick Changeover approach


Benefits of Quick Changeover:


Reduce defect rates - Quick Changeover reduces adjustments as part of setup and promotes quality


Reduce inventory costs - Elimination of, or reduction in numbers of batches, and their sizes, allows for recovery of operating cash and manufacturing space


Increase production flexibility - Increase output and improve timeliness of response to customer orders


Improve on-time delivery - Quick Changeover supports the ability to quickly meet customer demands


You can use these slides as a refresher for you, or in a training/classroom environment. You will learn the standard methodology in applying Quick Changeover to any type of set-up or industry. The techniques covered demonstrate how to reduce changeover time from hours to minutes and even seconds.
The Quick Changeover Slides are designed for business professionals who are interested in applying process improvement techniques in their workplace. Some of these professionals may include Quality Managers, Continuous Improvement Managers, Process engineers, etc.
Quick Changeover Results



Automotive injection molding and metal fabrication companies have applied quick changeover techniques   since the 1970's.


They have reduced their changeover times from 8-20 hours to 10 minutes.


[caption id="attachment_17470" align="alignnone" width="1250"]
Sample image for training slides[/caption]
---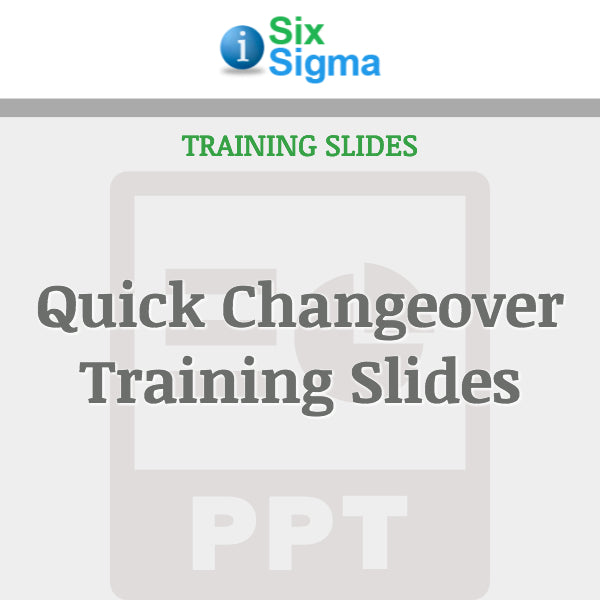 Store Categories
Our Promise To You