PM training materials to learn and instruct
--
The 2008 Process Management course is designed in two phases comprised of:



352 Powerpoint slides


Instructor notes


Slide explanations


14 supporting templates


Training slides are geared for novices, managers, trainers and consultants.
The OSSS Process Management course demonstrates how to identify and select key business processes and how to fully characterize, improve and manage them. It can be used for self-study and/or training your organization.
This course has been designed to build your knowledge and capability to improve the performance of processes and subsequently the performance of your business.
By taking this course you will have a well rounded and firm grasp of many of the tools of these methodologies. Further you will be able to apply these tools to a process you are part of as both a learning experience and a chance to improve the way your work gets done.
The Process Management course breaks down how to manage business processes so that they are effective, efficient and adaptable. Through the use of various tools, methodologies, management approaches and technologies you will learn that process management is the collection and orchestration of these efforts in order to assure improvement and success.
Specifically, the learning road map includes:


Introduction and Overview

Process Management Intro

Six Sigma Intro

Basic Probability and Stats



Cost of Poor Quality (COPQ)


DEFINE:



Selecting a Key Process

Project Definition Steps

Problem Statements

Objective Statements

Tracking Progress


MEASURE:



The Leverage Funnel

Process Mapping



Tools for Finding Potential X's

Process Capability

Measurement Systems Analysis


ANALYZE:



Graphical Analyses

Process Simulation Exercise

Student Work Assignment

FMEA


IMPROVE:



Work Assignment Review



Fundamentals of Experimentation

Lean Principles

Value Stream Analysis


CONTROL:



Poka Yoke Concepts

Control Plans

SPC Approaches

Implementing Solutions

Process Management System

Conclusions


Attention Instructors: For information on purchasing multiple-user downloads of this product at a discounted rate or to obtain licenses to print more than one copy of the course, please contact us.
---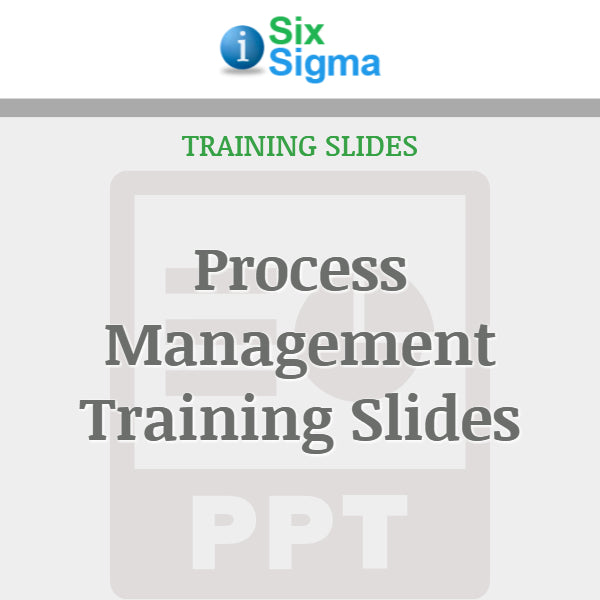 Store Categories
Our Promise To You