47% of the respondents said their deployment has become more centralized
--
For operational excellence programs, in which implementing change is an integral part of the charter, deployment structure can be a critical success factor. An optimal alignment can make it easier to secure the necessary resources and support to effect positive change.
However, what is optimal in one context may not be optimal in another. External forces – such as challenging economic conditions, cultural influences and the relative maturity of the company – can impact a deployment's efficacy in different ways, sometimes requiring adjustments to the operating model.
Taking a snapshot of the operational context in which practitioners currently find themselves is worthwhile to determine best practices that can enhance the operational effectiveness of specific structures.
This iSixSigma Magazine research report, based on data from 472 survey respondents from around the world, explores organizational structures, approaches and roles used to manage operational excellence (OpEx) deployments.
Survey Methodology: iSixSigma Magazine designed this survey to explore how organizations using Six Sigma and other continuous process improvement methodologies (for purposes of this survey, referred to as "Operational Excellence," or "OpEx" for short) are structured for effectiveness. OpEx professionals were invited by email to participate in the survey.
Additionally, visitors to iSixSigma.com and members of the iSixSigma Network on LinkedIn also were offered the opportunity to participate.
The survey drew responses from 472 individuals, with 49 percent coming from the United States and Canada. Some reported totals do not add to 100 percent because of rounding and survey questions that allowed more than one response per respondent.
[caption id="attachment_17354" align="alignnone" width="1250"]
Sample image for research[/caption]
---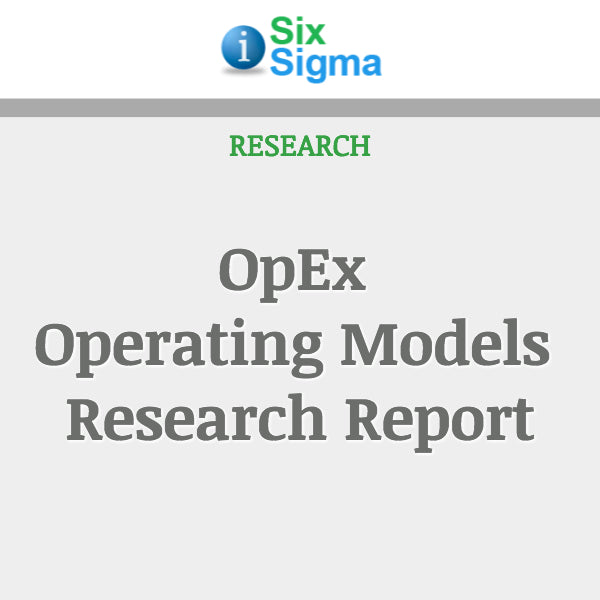 Store Categories
Our Promise To You