Lean is process speed and Six Sigma is process success.
--
Lean and Six Sigma have been around for a few years, but only recently have people realized how well they compliment one another. In fact, they are more similar than different.
The most successful improvement initiatives today use a combined Lean Six Sigma approach, with much more success and faster improvements than either initiative on its own.
Lean focuses primarily on cycle time reductions, and Six Sigma focuses primarily on defects. When you apply the correct tool or analysis to any problem, you are almost guaranteed to resolve the issue if you have the right mix of training and knowledge.
This course provides you with an overview of Lean Six Sigma, how it can improve your company's performance, what each initiative's strengths and weaknesses are, why these initiatives should be combined together, and how your company can succcessfully get started implementing Lean Six Sigma.
How long would it take you to develop your own course? Hours? Weeks? Unless you can develop a similar course in less than an hour, this course will pay for itself at least ten times over!
Don't spend thousands of dollars hiring a consultant to come in and speak in general terms. Use your knowledge of your company's major problems to elaborate on the material we have put together.
Unless you can show how these concepts relate to actual issues that your employees deal with, you will have a hard time making much of an improvement in the way problems are resolved.
This course has been utilized many times in various industries, and is exactly what you would create on your own, if only you had the time. We have done all the hard work for you, so just follow these simple steps...



Download the Powerpoint course


Edit the master slide with your company logo


Skim the speaker notes, maybe add a few of your own company specific examples


Start training your company!


The course is divided into various sections:


Overview - Why Lean Six Sigma is needed


What is Lean?


What is Six Sigma?


How do they differ?


Keys to Success


DMAIC Methodology


Why Lean Six Sigma?



Cut costs and expenses


Increase revenues and profit


Improve delivery times


Reduce inventory


Increase customer satisfaction


Increase employee job satisfaction and retention


Payback on investment of resources typically 10-20 times


[caption id="attachment_17465" align="alignnone" width="1250"]
Sample image for training slides[/caption]
---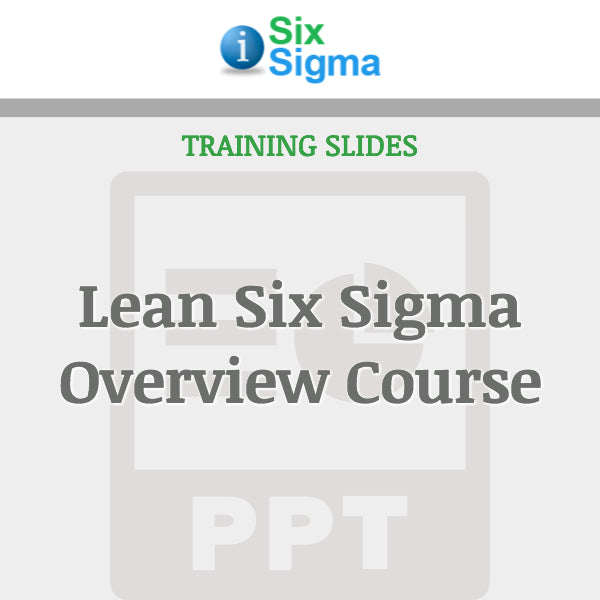 Store Categories
Our Promise To You