Delphi Thermal Systems Six Sigma project resulted in a robust product that employs existing Delphi aluminum brazing technologies
--
Delphi Thermal Systems is using Design for Six Sigma (DFSS) to move Six Sigma upstream, from the manufacturing floor into the product design and development process. In this advanced product development project, DFSS tools and the IDDOV (Identify, Define, Develop, Optimize, Verify) roadmap were used to develop product design and manufacturing process guidelines to join dissimilar metals for a new market application in electronics cooling.
The project resulted in a robust, cost-effective, high-performance, low-mass product that employs existing Delphi aluminum brazing technologies for heat exchanger production.
Included are five graphs/diagrams.
About the authors:


David M. Chatt, a certified DFSS Black Belt, is an engineering manager for Delphi Thermal Systems. He has 33 years of experience in automotive HVAC systems, electronics cooling and residential air conditioning.
Mary Elizabeth Hendricks is a senior research engineer at Delphi Thermal Systems, where she provides technical leadership for the application of DFSS and Six Sigma tools. Her 32-year career spans myriad problem-solving and problem prevention experiences. She is a Delphi-certified senior Six Sigma and DFSS Master Black Belt as well as a robust engineering coach.
Douglas C. Wintersteen is a senior product engineer at Delphi Thermal Systems with 38 years of experience in design and development of automotive and non-automotive heat exchangers, automotive compressors and HVAC components, and engine cooling systems. He is a certified DFSS Black Belt.


[caption id="attachment_17108" align="alignnone" width="1250"]
Sample image from project example[/caption]
---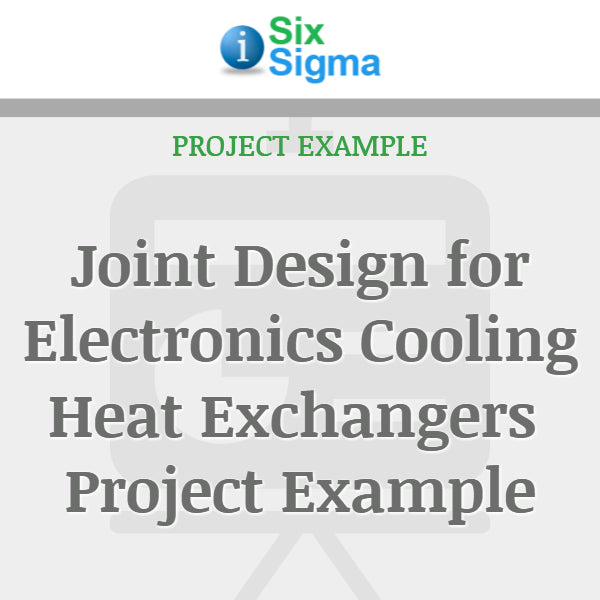 Store Categories
Our Promise To You