Vytra Health Plans Six Sigma project completion resulted to a decreased in loyalty index DPMO that costs $199.382 and call satisfaction index DPMO that costs $195,513 for
--
Vytra Health Plans, a subsidiary of HIP Health Plan of New York, is a health insurance company based in Long Island, New York. At the time of the project, Vytra, a $400 million company, had approximately 500 employees, 200,000 members and a network of 9,000 physicians.
Retaining members and making them loyal to Vytra is a major business priority. About half of Vytra's members can elect to go to another insurance provider, and many do. The reasons for disenrollment range from plan pricing, to personal life changes (e.g., marriage, divorce, babies, etc.), to employer-controlled decisions, to customer satisfaction issues.
The year prior to the completion of the project, the National Committee for Quality Assurance (NCQA) published statistics pertaining to the customer satisfaction level of Vytra's members.
In particular, the committee reported that only 56.7 percent of members requiring customer service support were highly satisfied with their experience. That meant that nearly 44 percent experienced some level of dissatisfaction. The goal of this effort was to eliminate member dissatisfaction as a reason for disenrollment.
At the completion of the project, another capability analysis was conducted for the loyalty and call satisfaction indices.
The loyalty index DPMO had decreased from 488,270 to 288,888 and the call satisfaction index DPMO had gone from 432,550 to 237,037. The organization also saw a corresponding improvement in the NCQA survey results, from 56.7 percent highly satisfied with Vytra's customer service to 72.3 percent.
Lastly, Vytra realized $600,000 in bottom-line savings. This was $100,000 more than the team committed to at the beginning of the project.
[caption id="attachment_17118" align="alignnone" width="1178"]
Sample image from project example[/caption]
---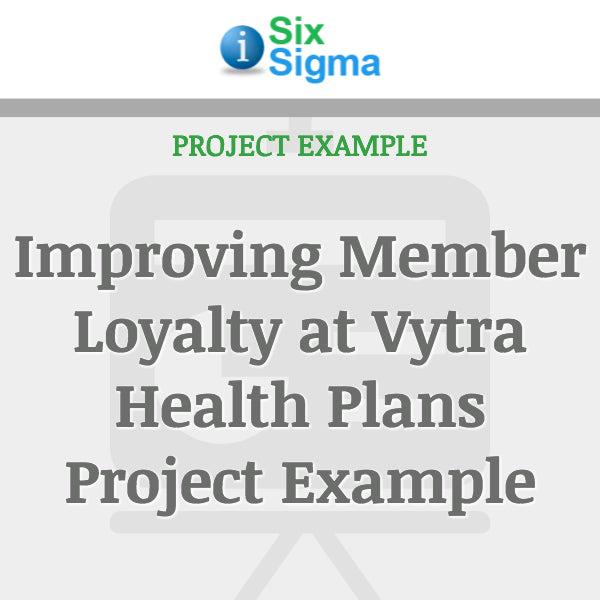 Store Categories
Our Promise To You