Gage Repeatability and Reproducibility (R&R) is a subset of Measurement System Analysis (MSA)
--
One of the most overlooked concepts of Six Sigma is the validity of data.
Most people assume that the data they are using is valid, since it came from a highly technical piece of equipment, or was captured electronically. However, many Six Sigma projects never get past the Measure phase due to poor measurement systems (MSA) that are causing some of the problems.
It is important to learn how to validate the data you have before you move into the Analyze phase. As the saying goes "Garbage In, Garbage Out!"
By downloading this presentation course, you will have access to review terms and techniques at your own leisure and pace. We spent a lot of time simplifying this topic so that the terms and concepts are easy to understand and make sense to those who might be scared off by Gage R&R's.
How long would it take you to develop your own course? Hours? Weeks? Unless you can develop a similar course in less than an hour, this course will pay for itself at least ten times over!
The course is yours to keep. Feel free to edit, change or modify however you want, or don't change a thing and teach directly from our material. There are a total of 90 slides in the course.
No recurring costs, no "per student" charge, and no special software to download. Your employees can refer back to it anytime they like. Send it in a global email to everyone in your company, if you'd like!
Don't spend thousands of dollars hiring a consultant to come in and speak in general terms.
Use your knowledge of your company's major problems to elaborate on the material we have put together. Unless you can show how these concepts relate to actual issues that your employees deal with, you will have a hard time making much of an improvement in the way problems are resolved.
This course has been utilized many times in manufacturing environments, and is exactly what you would create on your own, if only you had the time. We have done all the hard work for you, so just follow these simple steps:



Download the Powerpoint course from our website (did we mention our courses are only $99)


Edit the master slide with your company logo


Skim the speaker notes, maybe add a few of your own company specific examples


Start training your company!


The course covers the following categories:


Data Types - Variable vs binary (pass/fail) data


Sources of Measurement Error - Precision (Resolution, Repeatability, Reproducibility) and Accuracy (Bias, Stability, Linearity)


Risks - Type I (producer risk) and Type II (consumer risk) errors that can be made with decision making


Gage R&R criteria - what is the acceptable criteria when performing a variable Gage R&R or an Attribute Agreement Analysis.


We've told you what it does, so what is this course missing? (we can't put everything in it...)


Gage R&R's for count or rating data


Detailed calculations of Gage R&R ANOVA and or Average/Range method


Explanations of capability and control charts (covered in other classes we offer)


All Gage R&R outputs from Minitab


R&R stands for Repeatability and Reproducibility
Gage
= Process and devices used for collecting data
Repeatability
= Differences between data points when you re-measure the same item
Reproducibility
= Differences between people or devices when measuring the same item
[caption id="attachment_17487" align="alignnone" width="1250"]
Sample image for training slides[/caption]
---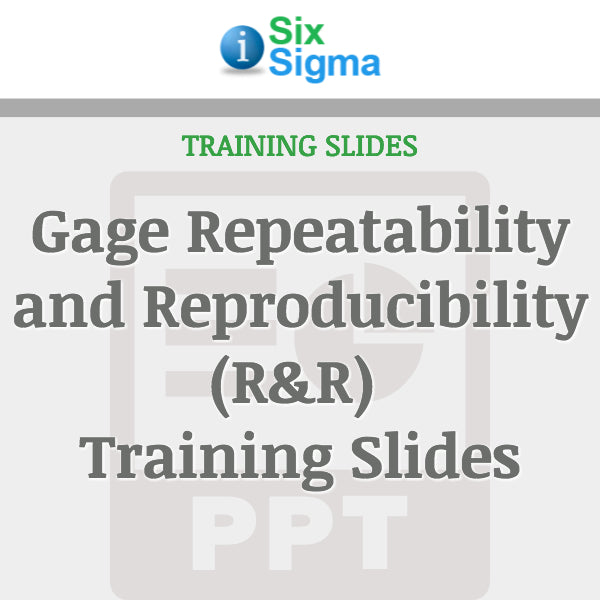 Store Categories
Our Promise To You