COPQ is the financial cost estimate of these "wastes" and how they impact the company
--
The biggest issue facing companies today is the ability to tie waste to the financial balance sheet of the company. Cost of Poor Quality allows you to get an estimate of these wastes, and speak the language of management.
Often times, these wastes get reported in terms of inventory turns, defect rates, test yields, number of failures, etc. None of these metrics help management prioritize the true financial impact of these wastes. By converting them into dollars, these wastes provide everyone with a better understanding of how big these problems are.
How long would it take you to put this class together? Hours? Weeks? Unless you can develop a similar course in two hours or less, this course will pay for itself at least ten times over!
The course is yours to keep. Feel free to edit, change or modify however you want, or don't change a thing and teach directly from our material.
There are a total of 27 slides, so plan on a 1 hour class, with 30-60 minutes of discussion afterwards.
No recurring costs, no "per student" charge, and no special software to download. Your employees can refer back to it anytime they like. Send it in a global email to everyone in your company, if you'd like!
Don't spend thousands of dollars hiring a consultant to come in and speak in general terms. Use your knowledge of your company's major problems to elaborate on the material we have put together.
Unless you can show how these concepts relate to actual issues that your employees deal with, you will have a hard time making much of an improvement in the way problems are prioritized and resolved. Without COPQ, you will always be frustrated as to why problems aren't getting resolved quickly.
We have done all the hard work for you, so just follow these simple steps...



Download the Powerpoint course from our website


Edit the master slide with your company logo


Skim the speaker notes, maybe add a few of your own company specific examples


Start training your company!


Here is an outline of the course...


Objectives


What is waste?


What is COPQ?


Why is COPQ important?


Examples


COPQ Process


Summary


When we reduce or eliminate COPQ, it results in:


Job Security through increased sales and orders from the satisfied customers


Improved company performance
- Stock investments, pay raises, bonuses, cost savings and avoidances

Higher job satisfaction


Reduced cycle time from order to delivery


Freed up resources to focus on other areas in need


[caption id="attachment_17425" align="alignnone" width="1250"]
Sample image for training slides[/caption]
---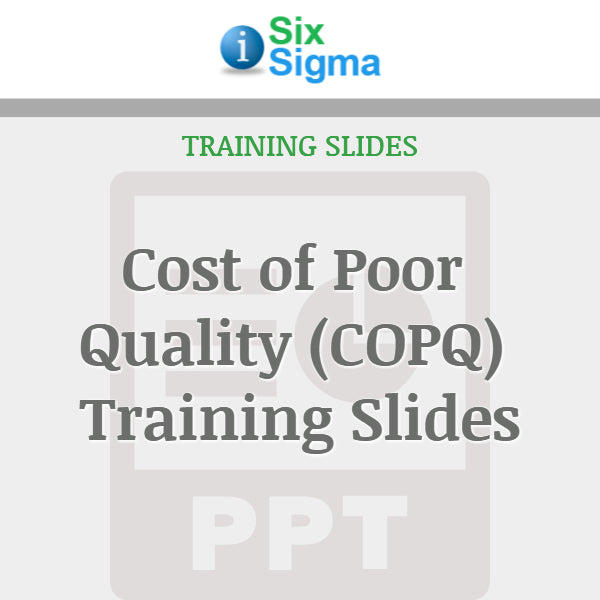 Store Categories
Our Promise To You